Posts for tag: gum recession
By Jeffrey A. Harris, D.D.S.
September 14, 2017
If you've noticed some of your teeth seem to be "longer" than you remembered, it's not because they've grown. Rather, your gums have shrunk back or receded to expose more of the underlying tooth.
It's not just unattractive — gum recession could lead to severe consequences like bone or tooth loss. But before we begin treatment we need to find out why it happened. Knowing the true cause will help us put together the right treatment plan for your situation.
Here are 4 of the most common causes for gum recession and what we can do about them.
The kind of gum tissues you have. There are two kinds of risk factors: those you can control and those you can't. Because you inherited the trait from your parents, your gum tissue thickness falls into the latter category. Although there are degrees within each, gum tissues are generally classified as either thick or thin. If you have thin tissues, you're more susceptible to gum recession — which means we'll need to be extra vigilant about caring for your gum health.
Tooth position. Normally a tooth erupts during childhood in the center of its bony housing. But it can erupt outside of it, often resulting in little to no gum tissue growth around it. The best solution is to move the tooth to a better position within the bony housing through orthodontics. This in turn could stimulate gum growth.
Over-aggressive brushing. Ironically, gum recession could be the result of brushing, one of the essential hygiene tasks for dental health. Consistently brushing too hard can inflame and tear the tissues to the point they begin to recede. Brushing doesn't require a lot of force to remove plaque: use gentle, circular motions and let the detergents and mild abrasives in your toothpaste do the rest.
Periodontal (gum) disease. This, by far, is the greatest cause for gum recession: an infection caused by built-up bacterial plaque. The weakened tissues begin to detach from the teeth and recede. Gum disease can be treated with aggressive plaque removal and supporting techniques; but it's also highly preventable. Practicing daily brushing and flossing and regularly visiting your dentist for thorough cleanings and checkups are the best practices for keeping your gums as healthy as possible.
If you would like more information on gum recession, please contact us or schedule an appointment for a consultation. You can also learn more about this topic by reading the Dear Doctor magazine article "Gum Recession."
By Jeffrey A. Harris, D.D.S.
May 24, 2017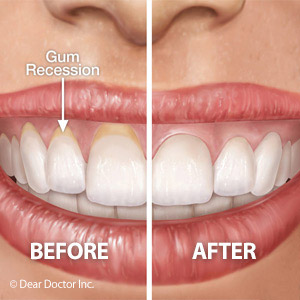 Your gums not only help hold your teeth securely in place, they also help protect them. They're also part of your smile — when healthy and proportionally sized, they provide a beautiful frame for your teeth.
But if they become weakened by periodontal (gum) disease, they can detach and begin to shrink back or recede from the teeth. Not only will your smile be less attractive, but you could eventually lose teeth and some of the underlying bone.
Treating gum recession begins with treating the gum disease that caused it. The primary goal is to remove the source of the disease, a thin film of food particles and bacteria called dental plaque, from all tooth and gum surfaces. This may take several sessions, but eventually the infected gums should begin showing signs of health.
If the recession has been severe, however, we may have to assist their healing by grafting donor tissue to the recession site. Not only does this provide cover for exposed tooth surfaces, it also provides a "scaffold" for new tissue growth to build upon.
There are two basic surgical approaches to gum tissue grafting. One is called free gingival grafting in which we first completely remove a thin layer of surface skin from the mouth palate or a similar site with tissue similar to the gums. We then attach the removed skin to the recession site where it and the donor site will usually heal in a predictable manner.
The other approach is called connective tissue grafting and is often necessary when there's extensive root exposure. The tissue is usually taken from below the surface of the patient's own palate and then attached to the recession site where it's covered by the surrounding adjacent tissue. Called a pedicle or flap, this covering of tissue provides a blood supply that will continue to nourish the graft.
Both of these techniques, but especially the latter, require extensive training and micro-surgical experience. The end result is nothing less than stunning — the tissues further rejuvenate and re-attach to the teeth. The teeth regain their protection and health — and you'll regain your beautiful smile.
If you would like more information on treating gum recession, please contact us or schedule an appointment for a consultation. You can also learn more about this topic by reading the Dear Doctor magazine article "Periodontal Plastic Surgery."