Posts for tag: retainers
By Jeffrey A. Harris, D.D.S.
May 09, 2017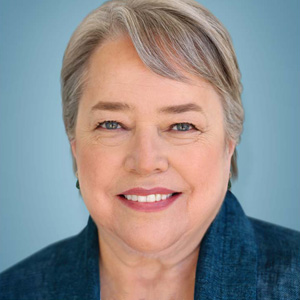 In her decades-long career, renowned actress Kathy Bates has won Golden Globes, Emmys, and many other honors. Bates began acting in her twenties, but didn't achieve national recognition until she won the best actress Oscar for Misery — when she was 42 years old! "I was told early on that because of my physique and my look, I'd probably blossom more in my middle age," she recently told Dear Doctor magazine. "[That] has certainly been true." So if there's one lesson we can take from her success, it might be that persistence pays off.
When it comes to her smile, Kathy also recognizes the value of persistence. Now 67, the veteran actress had orthodontic treatment in her 50's to straighten her teeth. Yet she is still conscientious about wearing her retainer. "I wear a retainer every night," she said. "I got lazy about it once, and then it was very difficult to put the retainer back in. So I was aware that the teeth really do move."
Indeed they do. In fact, the ability to move teeth is what makes orthodontic treatment work. By applying consistent and gentle forces, the teeth can be shifted into better positions in the smile. That's called the active stage of orthodontic treatment. Once that stage is over, another begins: the retention stage. The purpose of retention is to keep that straightened smile looking as good as it did when the braces came off. And that's where the retainer comes in.
There are several different kinds of retainers, but all have the same purpose: To hold the teeth in their new positions and keep them from shifting back to where they were. We sometimes say teeth have a "memory" — not literally, but in the sense that if left alone, teeth tend to migrate back to their former locations. And if you've worn orthodontic appliances, like braces or aligners, that means right back where you started before treatment.
By holding the teeth in place, retainers help stabilize them in their new positions. They allow new bone and ligaments to re-form and mature around them, and give the gums time to remodel themselves. This process can take months to years to be complete. But you may not need to wear a retainer all the time: Often, removable retainers are worn 24 hours a day at first; later they are worn only at night. We will let you know what's best in your individual situation.
So take a tip from Kathy Bates, star of the hit TV series American Horror Story, and wear your retainer as instructed. That's the best way to keep your straight new smile from changing back to the way it was — and to keep a bad dream from coming true.
If you would like more information about orthodontic retainers, please contact us or schedule an appointment for a consultation. You can learn more about this topic in the Dear Doctor magazine articles "Why Orthodontic Retainers?" and "The Importance of Orthodontic Retainers." The interview with Kathy Bates appears in the latest issue of Dear Doctor.
By Jeffrey A. Harris, D.D.S.
May 27, 2016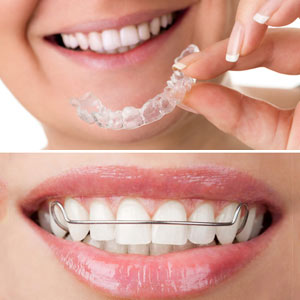 It's a big moment after months of wearing braces to finally get a glimpse of your new smile. The crooked teeth and poor bite are gone — and in their place are beautiful, straight teeth!
If you're not careful, though, your new look might not last. That's because the natural mechanism we used to straighten your teeth may try to return them to their previous poor positions.
Contrary to what many people think, teeth aren't rigidly set within the jaw bone. Instead, an elastic, fibrous tissue known as the periodontal ligament lies between the teeth and the bone and attaches to both with tiny fibers. Though quite secure, the attachment allows the teeth to move in very minute increments in response to growth or other changes in the mouth.
Orthodontic appliances like braces or clear aligners put pressure on the teeth in the direction we wish them to move. The bone dissolves on the side of the teeth where pressure is being applied or facing the direction of movement and then builds up on the other side where tension is occurring.
The ligament, though, has a kind of "muscle memory" for the teeth's original position. Unless it's prevented, this "memory" will pull the teeth back to where they used to be. All the time and effort involved with wearing braces will be lost.
That's why it's important for you to wear an appliance called a retainer after your braces have been removed. As the name implies, the appliance "retains" the teeth in their new position until it's more permanently set. For most people, this means wearing it for twenty-four hours in the beginning, then later only a few hours a day or while you sleep.
The majority of younger patients eventually won't need to wear a retainer once bone and facial growth has solidified their teeth's new position. Older adults, though, may need to wear one from now on. Even so, it's a relatively slight inconvenience to protect that beautiful, hard-won smile.
If you would like more information on retainers, please contact us or schedule an appointment for a consultation. You can also learn more about this topic by reading the Dear Doctor magazine article "The Importance of Orthodontic Retainers."
By Jeffrey A. Harris, D.D.S.
November 19, 2014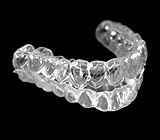 Your braces have finally been removed and you've unveiled your new smile to the world. You're finished with orthodontics — right?
Not quite. If you want to "retain" your new smile you'll need to wear a retainer appliance: depending on your age and which teeth were moved, that could be for several months or even indefinitely.
Retainers are necessary because of how teeth naturally move within the mouth. Although your teeth may seem rigidly set in bone, they're actually held in place by an elastic tissue called the periodontal ligament. This tissue is quite dynamic in response to biting forces or even normal tooth wear. When forces are applied to a tooth, it's the ligament that transmits pressure against the teeth to gradually move them to a more accommodating position. In response, the bone resorbs (dissolves) on the side of the tooth moving toward the new position while laying down new growth on the other side. This bone growth will help anchor the tooth in the new position.
Braces use this natural process to gradually move teeth; both the ligament and bone will reform as needed. But this reforming process takes time. Furthermore, there's a natural balance between the teeth, the tongue and the lips and cheeks. Although the new position created by orthodontics may be more aesthetically pleasing, it may disrupt the natural balance of these surrounding muscles. The influence of habits like clenching or grinding of your teeth may also disturb the new tooth position. The natural tendency is to revert back to the original tooth position.
We use retainers to prevent this reversal. Nearly all orthodontic patients will initially wear them all the time, and for younger patients this may be reduced to wear only during sleep time. Total wear time usually lasts a minimum of eighteen months, until the bone and ligament have fully reformed.
For older patients, though, retainer wear may need to continue indefinitely to prevent "relapse." In these long-term cases another option to a removable retainer is to permanently bond thin retainer wires to the inside surfaces of the front teeth. The wires can remain in place for several years and are much less noticeable than a removable retainer.
While retainers are often considered inconvenient, they're absolutely necessary for preserving the results of orthodontic treatment. In the end they'll help you keep the form and function of your new smile.
If you would like more information on orthodontic retainers, please contact us or schedule an appointment for a consultation. You can also learn more about this topic by reading the Dear Doctor magazine article "Why Orthodontic Retainers?"