It seems today that every dentist is a cosmetic dentist. This represents a fairly recent phenomenon. Since cosmetic dentistry is not a specialty recognized by the American Dental Association, how does one determine who's good, and who's not?
Below are four criteria that I would recommend using in your selection of a cosmetic dentist:
---
EDUCATION: There are many continuing education courses offered in cosmetic dentistry, and most of them are quite good. A cosmetic dentist must be dedicated to expanding his learning and increasing his knowledge through regular participation in these courses. This is a critical component of a cosmetic dentist's development of his or her own philosophy and technical expertise.


EXPERIENCE: While education is extremely important, it is of little relevance if not used in practice. The more cases a cosmetic dentist completes, the more capable that professional becomes in visualizing results, anticipating challenges, and knowing which techniques will produce the optimum result for the client. Cosmetic dentistry is extremely technical, and a clinician's skill set develops over time.


LAB SUPPORT: Most cosmetic dental cases involve the fabrication of a porcelain crown and/ or veneer. These items are made in a dental laboratory by specially trained personnel. This dental laboratory technician, or ceramist, is responsible for translating the cosmetic dentist's specific information on your case into a well-crafted and natural-looking product. In this sense, the ceramist is a true artist. In order to achieve a high level of proficiency, this individual must have benefited from the experiences of completing many cases. Ideally, the cosmetic dentist should have the same highly skilled ceramist complete all of his or her cases. This scenario would result in consistently beautiful results. In order to achieve this, the cosmetic dentist must have an established relationship with a high-quality dental laboratory.


REFERENCES: A cosmetic dentist should be able to provide a list of clients on whom he or she has completed cosmetic procedures. This is the best way for a potential client to gauge the patient's experience with their cosmetic dentist and their degree of satisfaction with the final product.
---
Hopefully, these guidelines will help in the process of selecting the cosmetic dentist who is right for you
Replacement teeth supported by dental implants function so well and last so long because, like natural teeth, they are securely anchored in the jawbone for maximum support. In order to benefit from this remarkable technology, however, you need to have enough tooth-supporting bone in your jaw to hold a dental implant in place. Unfortunately, after tooth loss, the surrounding bone almost always deteriorates — decreasing in width, height and density — and this process starts immediately. The longer a tooth has been missing, the more the bone that used to surround it resorbs (melts away). If you want a dental implant but don't have enough bone to support it, can anything be done? Yes. Very often you can still get the replacement tooth you want, thanks to routine bone grafting procedures.
How It Works
Bone grafting, normally a minor surgical procedure done in the dental office, is used to build up new bone in the area of your jaw that used to hold teeth. A small incision is made in your gum to expose the bone beneath it, and then grafting material is added. Most often, the grafting material is processed bone that serves as a scaffold, around which your body will actually deposit new bone cells. The grafting material will eventually be absorbed by your body and replaced by your own new bone.
The grafting material needed can come from a variety of sources. Sometimes it comes from your own body. Very often, however, it is bone from an animal or human donor that is processed by a laboratory to make it sterile and safe. Grafting material can even be synthetic. It comes in a variety of forms: powder, granules, putty or even a gel that can be injected through a syringe.
Types of Bone Grafts
There are a variety of sources of bone grafting material used for preserving or augmenting bone for dental implants. All of these bone grafting materials are backed by significant research. They are processed (except autografts, which do not need processing) so that they are safe to use, eliminating the potential for rejection or disease transmission.
Autograft: If you are already familiar with the concept of bone grafting, an autograft is probably what you're thinking of: taking bone from one site in your body and moving it to another. This is the only type of bone graft that involves creating two surgical sites: the one from which the bone is harvested and the one where it is deposited.
Allograft: This refers to laboratory-processed human bone from a deceased donor that comes from a tissue bank.
Xenograft: This bone grafting material comes from an animal — usually a cow.
Alloplast: This type of graft uses synthetic (man-made) materials.
What to Expect
The procedure for placing a bone graft usually requires only local anesthesia, though oral or IV sedatives can also be used to achieve a higher state of relaxation. Because a small incision in your gum tissue needs to be made to access the underlying bone that will receive the graft, you may experience some soreness in the area after the surgery; this can usually be managed by over-the-counter anti-inflammatory medication and/or pain relievers as well as ice therapy after the procedure. Though you will soon feel completely back to normal, it may take your body up to seven months for bone maturation to take place to receive your dental implant. The waiting time allows the healing process enough time to achieve the desired result: ideal support for replacement teeth that look great and will last a lifetime.
Related Articles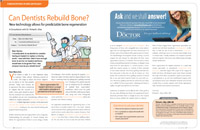 Can Dentists Rebuild Bone? Yes they can! It is very important to maintain bone volume following removal of a tooth so that dental implants remain a viable option for tooth replacement. This is easily accomplished with today's routine bone-grafting techniques... Read Article