It seems today that every dentist is a cosmetic dentist. This represents a fairly recent phenomenon. Since cosmetic dentistry is not a specialty recognized by the American Dental Association, how does one determine who's good, and who's not?
Below are four criteria that I would recommend using in your selection of a cosmetic dentist:
---
EDUCATION: There are many continuing education courses offered in cosmetic dentistry, and most of them are quite good. A cosmetic dentist must be dedicated to expanding his learning and increasing his knowledge through regular participation in these courses. This is a critical component of a cosmetic dentist's development of his or her own philosophy and technical expertise.


EXPERIENCE: While education is extremely important, it is of little relevance if not used in practice. The more cases a cosmetic dentist completes, the more capable that professional becomes in visualizing results, anticipating challenges, and knowing which techniques will produce the optimum result for the client. Cosmetic dentistry is extremely technical, and a clinician's skill set develops over time.


LAB SUPPORT: Most cosmetic dental cases involve the fabrication of a porcelain crown and/ or veneer. These items are made in a dental laboratory by specially trained personnel. This dental laboratory technician, or ceramist, is responsible for translating the cosmetic dentist's specific information on your case into a well-crafted and natural-looking product. In this sense, the ceramist is a true artist. In order to achieve a high level of proficiency, this individual must have benefited from the experiences of completing many cases. Ideally, the cosmetic dentist should have the same highly skilled ceramist complete all of his or her cases. This scenario would result in consistently beautiful results. In order to achieve this, the cosmetic dentist must have an established relationship with a high-quality dental laboratory.


REFERENCES: A cosmetic dentist should be able to provide a list of clients on whom he or she has completed cosmetic procedures. This is the best way for a potential client to gauge the patient's experience with their cosmetic dentist and their degree of satisfaction with the final product.
---
Hopefully, these guidelines will help in the process of selecting the cosmetic dentist who is right for you
You know how important it is to brush and floss properly when you're wearing braces — but what's the best way to do that? Let's start with the basic brushing tools: Either a soft-bristle brush or a bi-level brush (one that has shorter bristles in the middle and longer bristles at the edges) can be effective. Used carefully, an electric toothbrush can work just as well. But be sure the electric brush is set to a moderate power level, and don't let its vibrations cause the back of the brush to hit the braces!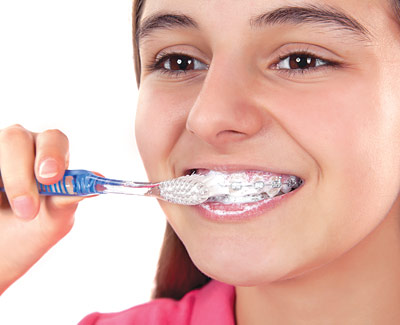 You should brush with a fluoride toothpaste at least two times per day (preferably after meals), for at least two minutes each time. Remember to brush all of the tooth surfaces: the outside, the inside, and the chewing surfaces as well. Be especially careful to clean the areas between wires and teeth, and between brackets and gums — that's where food particles can easily become trapped.
Here's a suggested brushing technique: Beginning at the outside surfaces, place the tips of the bristles flat against your teeth, and use small circular motions to gently polish them clean. For areas between braces and gums, tilt the brush toward the gum line (down for the bottom teeth, up for the top) while keeping up the circular motions. Next, move on to the chewing surfaces of upper and lower teeth, using a firm back-and-forth motion. Finally, finish up by carefully brushing the inside surfaces of the teeth the same way you did the outside surfaces.
Special Brushing Tools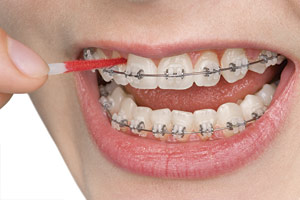 If you're having trouble cleaning the areas near brackets and wires, there are some special tools that may help. One is the interdental toothbrush, or proxabrush. It has a small tuft of bristles that stick up all around, like a pipe cleaner. Use it gently and carefully to clean the tiny spaces under wires and around bands and brackets.
Another special cleaning tool is the oral irrigator or "water pick." This device shoots a small stream of pressurized water at your teeth, which can help dislodge bits of food that become trapped in nooks and crannies. While it's easy to use, an oral irrigator isn't a substitute for a toothbrush or dental floss — but when used along with proper brushing and flossing techniques, it can be very effective.
Floss Fundamentals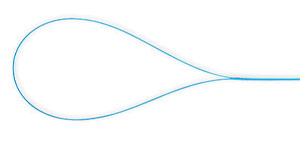 To keep your teeth and gums clean and healthy, you need to floss at least once per day. But how do you get floss under the archwire of your braces? It's not so hard with the help of a floss threader. Using this device is somewhat like threading a needle: You pull one end of floss through the threader, and then push the threader — carrying with it the free end of the floss — under the archwire. Now grasp the floss on each end and slide it up and down the sides of both teeth, and all the way under the gums until you hear a squeaky sound. Finally, pull it out and use a new section of floss for the next area.
Full Disclosure
Ever wonder how effective your tooth-cleaning techniques really are? There's an accurate way to tell, using special vegetable dyes called "disclosing solutions" or "disclosing tablets." As they dissolve in the mouth, these dyes highlight plaque and food debris that brushing has missed. You can then easily remove the dyed spots — and you'll know for sure if your oral hygiene methods need a little "brushing up."
Keeping your teeth and gums healthy now is an investment in your future. It enables you to get the best results from your orthodontic treatment, and starts you toward a brighter smile that can last for a lifetime.
Related Articles