It seems today that every dentist is a cosmetic dentist. This represents a fairly recent phenomenon. Since cosmetic dentistry is not a specialty recognized by the American Dental Association, how does one determine who's good, and who's not?
Below are four criteria that I would recommend using in your selection of a cosmetic dentist:
---
EDUCATION: There are many continuing education courses offered in cosmetic dentistry, and most of them are quite good. A cosmetic dentist must be dedicated to expanding his learning and increasing his knowledge through regular participation in these courses. This is a critical component of a cosmetic dentist's development of his or her own philosophy and technical expertise.


EXPERIENCE: While education is extremely important, it is of little relevance if not used in practice. The more cases a cosmetic dentist completes, the more capable that professional becomes in visualizing results, anticipating challenges, and knowing which techniques will produce the optimum result for the client. Cosmetic dentistry is extremely technical, and a clinician's skill set develops over time.


LAB SUPPORT: Most cosmetic dental cases involve the fabrication of a porcelain crown and/ or veneer. These items are made in a dental laboratory by specially trained personnel. This dental laboratory technician, or ceramist, is responsible for translating the cosmetic dentist's specific information on your case into a well-crafted and natural-looking product. In this sense, the ceramist is a true artist. In order to achieve a high level of proficiency, this individual must have benefited from the experiences of completing many cases. Ideally, the cosmetic dentist should have the same highly skilled ceramist complete all of his or her cases. This scenario would result in consistently beautiful results. In order to achieve this, the cosmetic dentist must have an established relationship with a high-quality dental laboratory.


REFERENCES: A cosmetic dentist should be able to provide a list of clients on whom he or she has completed cosmetic procedures. This is the best way for a potential client to gauge the patient's experience with their cosmetic dentist and their degree of satisfaction with the final product.
---
Hopefully, these guidelines will help in the process of selecting the cosmetic dentist who is right for you
When you experience pain in your mouth, it's sometimes abundantly clear which tooth is causing it. At other times, the sensation of discomfort is more diffuse, generalized or hard to pinpoint. On occasion, it can even be challenging to determine exactly what problem or combination of problems is causing the symptoms you're experiencing. This may be the case when an infection exists in the root canals of a tooth as well as the gum tissue adjacent to it.
In this situation, the infection may have begun in the pulp of the tooth itself; or, it may have started in the gums. Over time, it has spread from one location to the other — and now it's causing a confusing set of symptoms that are difficult to sort out. Regardless of where the problem started, a thorough analysis will be necessary before treatment can begin, to give you the best chance of saving the tooth.
Confusing Symptoms
From time to time, many people experience oral discomfort that's dull or intermittent. Occasionally, a more insistent pain may be triggered by a stimulus like temperature (from hot or cold foods or beverages) or pressure (from biting down on something). Sometimes, it may feel as though the ache is coming from a group of teeth rather than one single tooth — or even from the sinus area above the back teeth.
These symptoms can indicate a number of dental issues, including root canal and gum problems, and shouldn't be disregarded. However, if you manage to ignore the acute pain, in many cases it will fade in time. But this isn't good news: It generally means that the infected tissue in the pulp of your tooth has died, and the nerve is no longer functioning. That's when the problem may become more serious.
Chicken or Egg?
When the pulp tissue inside your tooth becomes severely infected, it's possible for the disease to move through openings at the end (apex) of the root, and outside of the tooth. It can then spread to the periodontal ligament, which anchors the tooth to the surrounding bone and gum tissue. From there, the infection may extend to the gum tissue and cause periodontal disease, or even result in a painful gum abscess. At that point, you may have pain — even severe pain that will let you know exactly which tooth is affected.
But it's also possible for the infection to be spread by the exact opposite pathway. In this case, an infection that originated in the gums (commonly due to periodontal disease caused by a buildup of plaque) may have has traveled through small passageways called accessory canals, which are located in between a tooth's roots, or on the sides of the roots. The infection can then extend into the tooth's pulp. If your teeth are fractured, it's even easier for disease to spread.
Treatment Methods
When dental problems involves both root canals and gum disease, saving the affected tooth can prove challenging. This is when it matters where the infection started: If it's primarily a root-canal problem that later moved into the gums, the outlook for the tooth is reasonably positive if it receives immediate treatment. If gum disease came first, however, the prospects often aren't as good; by the time the infection has moved into the tooth, it's possible that much bone has already been lost, making the tooth's long-term prognosis poor.
In either case, the cause of the tooth pain will need to be diagnosed and an effective treatment plan developed. The sooner that happens, the better: Root canal and gum problems simply don't get better on their own.
Related Articles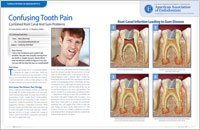 Confusing Tooth Pain It is occasionally difficult to pinpoint the origin of tooth pain, which can result from an infection of the tooth itself, or of the gum, or even spread from one to the other. Nevertheless, it's always important to sort out what's going on so that the right treatment can be selected and the tooth saved... Read Article