It seems today that every dentist is a cosmetic dentist. This represents a fairly recent phenomenon. Since cosmetic dentistry is not a specialty recognized by the American Dental Association, how does one determine who's good, and who's not?
Below are four criteria that I would recommend using in your selection of a cosmetic dentist:
---
EDUCATION: There are many continuing education courses offered in cosmetic dentistry, and most of them are quite good. A cosmetic dentist must be dedicated to expanding his learning and increasing his knowledge through regular participation in these courses. This is a critical component of a cosmetic dentist's development of his or her own philosophy and technical expertise.


EXPERIENCE: While education is extremely important, it is of little relevance if not used in practice. The more cases a cosmetic dentist completes, the more capable that professional becomes in visualizing results, anticipating challenges, and knowing which techniques will produce the optimum result for the client. Cosmetic dentistry is extremely technical, and a clinician's skill set develops over time.


LAB SUPPORT: Most cosmetic dental cases involve the fabrication of a porcelain crown and/ or veneer. These items are made in a dental laboratory by specially trained personnel. This dental laboratory technician, or ceramist, is responsible for translating the cosmetic dentist's specific information on your case into a well-crafted and natural-looking product. In this sense, the ceramist is a true artist. In order to achieve a high level of proficiency, this individual must have benefited from the experiences of completing many cases. Ideally, the cosmetic dentist should have the same highly skilled ceramist complete all of his or her cases. This scenario would result in consistently beautiful results. In order to achieve this, the cosmetic dentist must have an established relationship with a high-quality dental laboratory.


REFERENCES: A cosmetic dentist should be able to provide a list of clients on whom he or she has completed cosmetic procedures. This is the best way for a potential client to gauge the patient's experience with their cosmetic dentist and their degree of satisfaction with the final product.
---
Hopefully, these guidelines will help in the process of selecting the cosmetic dentist who is right for you
Your child's little baby teeth have some big responsibilities. Until the adolescent years, they will not only help your youngster bite and chew (i.e., get proper nutrition) and speak correctly but also help guide the permanent teeth underneath them into proper position. In fact, a major function of baby teeth is to hold space for the adult teeth that will eventually push them out.
At least that's how it's supposed to work; sometimes, however, injury or disease can cause a baby tooth to be lost prematurely. When that happens, the permanent teeth that are coming in on either side can actually drift into the space that was reserved for another tooth. This can cause teeth to erupt out of position or to be blocked entirely, and it may result in crowded or crooked teeth.
Fortunately, if your child loses a tooth prematurely, there's a dental appliance that can be used to hold the space open for the permanent tooth that is meant to fill it. The device is, not surprisingly, called a "space maintainer" or a "space maintenance appliance." Made of metal and/or plastic, space maintainers can be fixed (cemented) or removable, but either way their purpose is the same: to help your child develop the best bite possible and hopefully avoid the need for braces later on.
Fixed appliances are cemented onto adjacent teeth. They are made in many different designs: One consists of a band that goes around a tooth and then a wire loop that extends out from the band to hold the space; another features a loop attached to a stainless steel crown, which goes over a nearby tooth. In either case, the loop extends just to the point where it touches the next tooth. Fixed space maintainers are often preferred with younger children, because they are less easy to fidget with, break, or misplace than appliances that can be removed.
Removable appliances look like the type of retainer that is worn at the end of orthodontic treatment. It can have a false tooth on it, which is particularly useful when the lost tooth was visible in the mouth. Older children can usually handle the responsibility of wearing this appliance and caring for it properly.
Whether fixed or removable, your child's space maintainer will be custom-made after we take impressions of his or her mouth. A child will wear a space maintainer until x-rays reveal that the tooth underneath is ready to erupt naturally. It is very important that anyone wearing a space maintainer keep up good oral hygiene at home and have regular professional dental cleanings.
Space maintainers are also useful when one or more permanent teeth are congenitally missing — in other words, they have never existed at all. In cases like this, which are not uncommon, permanent dental implant teeth are often recommended for adolescents or adults to replace a tooth they weren't born with. But timing is very important with dental implants — they can't be placed in a growing child. Therefore, it is very important to use a space maintainer with a false tooth on it until jaw growth is complete and an implant can be appropriately placed. It's a simple, non-invasive way we can avoid a malocclusion (bad bite) with some timely intervention.
Related Articles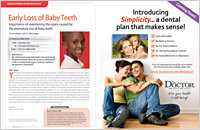 Early Loss of Baby Teeth If baby teeth are lost prematurely, other teeth can shift into the new space so that there is not enough room left for the permanent teeth to come in correctly; crowding or crooked teeth can result. Fortunately, a special oral appliance called a "space maintainer" has been designed to solve this problem... Read Article