It seems today that every dentist is a cosmetic dentist. This represents a fairly recent phenomenon. Since cosmetic dentistry is not a specialty recognized by the American Dental Association, how does one determine who's good, and who's not?
Below are four criteria that I would recommend using in your selection of a cosmetic dentist:
---
EDUCATION: There are many continuing education courses offered in cosmetic dentistry, and most of them are quite good. A cosmetic dentist must be dedicated to expanding his learning and increasing his knowledge through regular participation in these courses. This is a critical component of a cosmetic dentist's development of his or her own philosophy and technical expertise.


EXPERIENCE: While education is extremely important, it is of little relevance if not used in practice. The more cases a cosmetic dentist completes, the more capable that professional becomes in visualizing results, anticipating challenges, and knowing which techniques will produce the optimum result for the client. Cosmetic dentistry is extremely technical, and a clinician's skill set develops over time.


LAB SUPPORT: Most cosmetic dental cases involve the fabrication of a porcelain crown and/ or veneer. These items are made in a dental laboratory by specially trained personnel. This dental laboratory technician, or ceramist, is responsible for translating the cosmetic dentist's specific information on your case into a well-crafted and natural-looking product. In this sense, the ceramist is a true artist. In order to achieve a high level of proficiency, this individual must have benefited from the experiences of completing many cases. Ideally, the cosmetic dentist should have the same highly skilled ceramist complete all of his or her cases. This scenario would result in consistently beautiful results. In order to achieve this, the cosmetic dentist must have an established relationship with a high-quality dental laboratory.


REFERENCES: A cosmetic dentist should be able to provide a list of clients on whom he or she has completed cosmetic procedures. This is the best way for a potential client to gauge the patient's experience with their cosmetic dentist and their degree of satisfaction with the final product.
---
Hopefully, these guidelines will help in the process of selecting the cosmetic dentist who is right for you
In most people, the third set of molars, generally called "wisdom teeth," start coming in around age 17-25. However, the arrival of these teeth is often far from trouble-free. The extraction (removal) of one or more third molars is a relatively common procedure, performed on some 5 million patients every year. After a thorough examination and diagnostic tests such as x-rays or a CT scan, you may be told that you should have your wisdom teeth extracted. Here are some typical reasons why:
Your jaw may be too small to accommodate all your teeth, leading to excessive crowding and the chance of your wisdom teeth becoming impacted — that is, unable to emerge from the gums, and potentially harmful to adjacent bone or teeth
Your wisdom teeth may be erupting (coming in) in a crooked orientation, which can damage other teeth or anatomical structures in the jaw, and/or cause bite problems
If your wisdom tooth does not fully erupt (emerge from the gums), it can increase the chance for bacterial infection
A cyst (a closed, fluid-filled sac) may develop around the unerupted wisdom tooth, which can cause infection and injury to the adjacent bone or nerve tissue
Whether it is aimed at preventing future problems or needed to alleviate a condition you already have, the extraction of wisdom teeth can be an effective treatment. But, as with all medical procedures, its benefits must be weighed against the small risk of complications, and should be discussed in detail.
The Extraction Procedure
Wisdom tooth extraction is usually an in-office procedure which may be performed by a dentist or an oral surgeon. It's quite possible to have the treatment done with only a local anesthetic (numbing shot) to keep you from experiencing any pain; however, if multiple teeth are being extracted at one time (as is often the case), a general anesthetic or conscious sedation may be administered. The type of anesthesia that's best for you will be determined before the procedure.
Once you have been appropriately anesthetized, the gum tissue at the extraction site may need to be opened if the tooth is impacted. The tooth itself will then be gently removed. When the extraction is complete, you may need to have the site sutured (stitched) to aid healing. After the procedure is over, you will rest for a short time before going home. Depending on what type of anesthesia you have had, you may need another person to drive.
After the Procedure
The recovery period after wisdom tooth extraction generally lasts only a few days. During this time, you should rest when possible to encourage healing, and take any pain medication as prescribed. It's normal to experience some bleeding at the extraction site; this can be controlled by gently biting on gauze pads, changing them as needed, and resting with the head elevated on pillows rather than flat.
Holding an ice pack on the outside of your cheek for a few minutes at a time (for example, 5 minutes on / 5 minutes off) may help reduce swelling on the first day after the procedure. Starting on day 2, the warm moist heat of a washcloth placed on the cheek may make you more comfortable. Rinsing the mouth with warm salt water a few times a day can also help relieve discomfort.
You may want to eat soft foods for a few days after the extraction; likewise, be careful when brushing or putting anything in your mouth until your healing is complete. Be sure to follow the postoperative instructions you are given, as each situation is a little different; this will help you to be as comfortable as possible.
Related Articles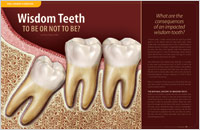 Wisdom Teeth – To Be Or Not To Be Wisdom teeth, which typically make their appearance between the ages of 17 and 25, can cause significant problems when there is not enough room for them to grow in properly. As a person ages, the effects of retained and impacted wisdom teeth can be more consequential. This article reviews the issues associated with wisdom teeth and whether or not they should be removed... Read Article