It seems today that every dentist is a cosmetic dentist. This represents a fairly recent phenomenon. Since cosmetic dentistry is not a specialty recognized by the American Dental Association, how does one determine who's good, and who's not?
Below are four criteria that I would recommend using in your selection of a cosmetic dentist:
---
EDUCATION: There are many continuing education courses offered in cosmetic dentistry, and most of them are quite good. A cosmetic dentist must be dedicated to expanding his learning and increasing his knowledge through regular participation in these courses. This is a critical component of a cosmetic dentist's development of his or her own philosophy and technical expertise.


EXPERIENCE: While education is extremely important, it is of little relevance if not used in practice. The more cases a cosmetic dentist completes, the more capable that professional becomes in visualizing results, anticipating challenges, and knowing which techniques will produce the optimum result for the client. Cosmetic dentistry is extremely technical, and a clinician's skill set develops over time.


LAB SUPPORT: Most cosmetic dental cases involve the fabrication of a porcelain crown and/ or veneer. These items are made in a dental laboratory by specially trained personnel. This dental laboratory technician, or ceramist, is responsible for translating the cosmetic dentist's specific information on your case into a well-crafted and natural-looking product. In this sense, the ceramist is a true artist. In order to achieve a high level of proficiency, this individual must have benefited from the experiences of completing many cases. Ideally, the cosmetic dentist should have the same highly skilled ceramist complete all of his or her cases. This scenario would result in consistently beautiful results. In order to achieve this, the cosmetic dentist must have an established relationship with a high-quality dental laboratory.


REFERENCES: A cosmetic dentist should be able to provide a list of clients on whom he or she has completed cosmetic procedures. This is the best way for a potential client to gauge the patient's experience with their cosmetic dentist and their degree of satisfaction with the final product.
---
Hopefully, these guidelines will help in the process of selecting the cosmetic dentist who is right for you
Your first appointment is an exciting time! It's a chance for you to learn about the treatments and services that can help give you the best smile possible. It all starts with the initial consultation.
You should plan to spend at least an hour at the first visit. That's to ensure that no one has to rush, and that you get plenty of time to ask any questions you may have. You will meet one of the receptionists or patient coordinators, who will take some information from you and bring you through the office. Then it's time for some diagnostic work and an exam.
Making a Plan
A big part of the first visit is to determine what treatment is necessary to correct any problems found — and whether to begin now, or wait until a later time. The procedure starts by taking a set of regular photographs of the teeth in their present state. Next, a series of radiographic (X-ray) images will be taken. These show what's going on underneath the gums: the position and growth of bones and joints, and the teeth that are still below the gum line.
In some cases, an impression (mold) of the teeth is also taken to create an exact replica of the bite. This helps reveal exactly what the problem is and how best to treat it. The impression is made by biting down on some soft putty-like material for a few moments; then it's removed.
After that, it's time for the exam. Besides looking in the mouth, we you may be asked questions, such as whether the jaws make noise when the mouth is opening or closing, or if there are any problems chewing or swallowing. Taken together, this information will yield a proper diagnosis so a treatment plan can be finalized at the first visit.
Discussing Your Treatment Options
Following the exam, you may be told that things are just fine — or, treatment may be recommended. It might begin right away or at a later time, depending on the developmental stage of the teeth and jaws. Many times, you'll be advised to return for periodic checkups until it's time to start.
Whether you're starting now or later, the first visit is the best time to ask questions about the process. Topics to discuss include treatment choices, what to expect at the different stages of the process, and any of the following:
Can orthodontic treatment benefit me (or my child)?
What general procedures will be used to correct the problem?
Are any options available (or recommended) for my treatment?
Should I get treatment now, or is it better to wait?
Will tooth extraction be necessary?
How much does treatment cost? Are payment plans available?
How long do you expect treatment should take?
When you leave the office, you should have a better understanding of how you can get the best possible smile.
Related Articles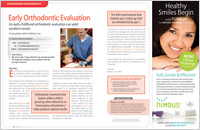 Early Orthodontic Evaluation Early detection of orthodontic problems in young children may make it easier to correct those problems in the long run. Waiting until all of the permanent (adult) teeth have come in, or until facial growth is nearly complete, may make correction of some problems more difficult or even impossible. An early childhood orthodontic evaluation can yield excellent results... Read Article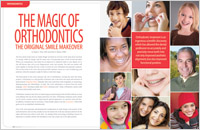 The Magic of Orthodontics Proper alignment of the teeth is basic to "Smile Design." Their position dictates how they work together and affects the way you look and smile. Only orthodontic treatment can move teeth into the right position. Simply put, when things look right, they probably are right. Learn the basics of smile analysis and design and whether the magic of orthodontics will work for you... Read Article