It seems today that every dentist is a cosmetic dentist. This represents a fairly recent phenomenon. Since cosmetic dentistry is not a specialty recognized by the American Dental Association, how does one determine who's good, and who's not?
Below are four criteria that I would recommend using in your selection of a cosmetic dentist:
---
EDUCATION: There are many continuing education courses offered in cosmetic dentistry, and most of them are quite good. A cosmetic dentist must be dedicated to expanding his learning and increasing his knowledge through regular participation in these courses. This is a critical component of a cosmetic dentist's development of his or her own philosophy and technical expertise.


EXPERIENCE: While education is extremely important, it is of little relevance if not used in practice. The more cases a cosmetic dentist completes, the more capable that professional becomes in visualizing results, anticipating challenges, and knowing which techniques will produce the optimum result for the client. Cosmetic dentistry is extremely technical, and a clinician's skill set develops over time.


LAB SUPPORT: Most cosmetic dental cases involve the fabrication of a porcelain crown and/ or veneer. These items are made in a dental laboratory by specially trained personnel. This dental laboratory technician, or ceramist, is responsible for translating the cosmetic dentist's specific information on your case into a well-crafted and natural-looking product. In this sense, the ceramist is a true artist. In order to achieve a high level of proficiency, this individual must have benefited from the experiences of completing many cases. Ideally, the cosmetic dentist should have the same highly skilled ceramist complete all of his or her cases. This scenario would result in consistently beautiful results. In order to achieve this, the cosmetic dentist must have an established relationship with a high-quality dental laboratory.


REFERENCES: A cosmetic dentist should be able to provide a list of clients on whom he or she has completed cosmetic procedures. This is the best way for a potential client to gauge the patient's experience with their cosmetic dentist and their degree of satisfaction with the final product.
---
Hopefully, these guidelines will help in the process of selecting the cosmetic dentist who is right for you
The practice of dentistry encompasses an amazing array of services and procedures, all with a common goal: to help you to preserve your natural teeth as long as possible, ensure your oral health, and keep you looking and feeling great throughout life.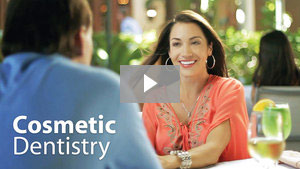 There's so much that can be done these days to improve the appearance of a person's smile — at any age. From powerful, professional whitening treatments to amazingly realistic porcelain veneers to state-of-the-art dental implants, there's a wide range of exciting possibilities.
The first step in any smile makeover is a thorough dental examination to make sure that your cosmetic problems really are just that, and not a sign of underlying dental disease. Once your health has been established, your smile can be cosmetically enhanced in a variety of ways.
Cosmetic & General Dentistry Procedures
Modern dentistry offers a wide range of services to make sure your teeth stay healthy, function well and look great. These procedures include:
Cleanings & Oral Exams, to keep your teeth and gums healthy, and catch early signs of dental disease
Cosmetic Bonding, to repair small chips or cracks
Crowns & Bridgework, to replace large amounts of lost tooth structure and/or missing teeth
Dental Implants, for the longest-lasting tooth replacement available today
Extractions, to remove unhealthy teeth that cannot be saved
Fillings, to restore decayed teeth
Inlays & Onlays, to fill teeth with larger cavities
Invisalign Clear Aligners, for highly discreet orthodontic treatment
Oral Cancer Screenings, to detect a dangerous disease that can be cured if caught early
Orthodontic Treatment, to move teeth into the right position
Porcelain Veneers, for repairing larger chips and cracks, and reshaping teeth
Removable Dentures, to help you smile again
Root Canal Treatment, to rescue diseased teeth
Sealants, to help prevent cavities
Teeth Whitening, to brighten a faded or discolored smile
TMD Treatment, for pain in the jaw area that can interfere with biting and chewing
Tooth-Colored Fillings, for a completely natural, healthy look
Tooth Decay Prevention, so you keep your natural teeth as long as possible
When to Visit the Dentist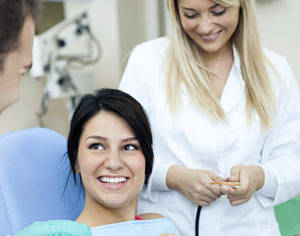 Many people only go to the dentist when something is wrong. That is truly a shame, because they are missing out on so many preventive services that can save discomfort — and expense — down the road. Regular dental visits are essential to make sure oral health problems — from tooth decay to oral cancer — are detected and treated in a timely manner. Some individuals may need to see the dentist more often than others to stay on top of problems like plaque buildup and gum disease, but everyone should go at least once per year.
Your regular dental visits will include a thorough oral exam to check the health of your teeth and gums; and oral cancer screening to spot any suspicious signs early; and a professional cleaning to remove stubborn deposits and make your teeth look and feel great. So don't miss out on the many benefits dentistry offers you and your family!
Your Smile Makeover
The most important job you have as a member of your own smile makeover team is to communicate exactly what you don't like about your smile and how you'd like it to be different. Before the first consultation, give some thought to the following questions:
What do you like or dislike about the color, size, shape and spacing of your teeth?
Are you pleased with how much your teeth show, both when you smile and when your lips are relaxed?
Do you want teeth that are perfectly aligned and a bright "Hollywood White," or would you prefer a more natural look with slight color, shape and shade variations?
Would you like more or less of your gums to show when you smile?
It is extremely helpful for you to bring in pictures you have collected — of smiles you like, smiles you don't like, and/or photos of the way your own smile used to look, if that's the result you're aiming for. Now is the time to get started on creating a smile that will make you feel as good as you look!
Related Articles