It seems today that every dentist is a cosmetic dentist. This represents a fairly recent phenomenon. Since cosmetic dentistry is not a specialty recognized by the American Dental Association, how does one determine who's good, and who's not?
Below are four criteria that I would recommend using in your selection of a cosmetic dentist:
---
EDUCATION: There are many continuing education courses offered in cosmetic dentistry, and most of them are quite good. A cosmetic dentist must be dedicated to expanding his learning and increasing his knowledge through regular participation in these courses. This is a critical component of a cosmetic dentist's development of his or her own philosophy and technical expertise.


EXPERIENCE: While education is extremely important, it is of little relevance if not used in practice. The more cases a cosmetic dentist completes, the more capable that professional becomes in visualizing results, anticipating challenges, and knowing which techniques will produce the optimum result for the client. Cosmetic dentistry is extremely technical, and a clinician's skill set develops over time.


LAB SUPPORT: Most cosmetic dental cases involve the fabrication of a porcelain crown and/ or veneer. These items are made in a dental laboratory by specially trained personnel. This dental laboratory technician, or ceramist, is responsible for translating the cosmetic dentist's specific information on your case into a well-crafted and natural-looking product. In this sense, the ceramist is a true artist. In order to achieve a high level of proficiency, this individual must have benefited from the experiences of completing many cases. Ideally, the cosmetic dentist should have the same highly skilled ceramist complete all of his or her cases. This scenario would result in consistently beautiful results. In order to achieve this, the cosmetic dentist must have an established relationship with a high-quality dental laboratory.


REFERENCES: A cosmetic dentist should be able to provide a list of clients on whom he or she has completed cosmetic procedures. This is the best way for a potential client to gauge the patient's experience with their cosmetic dentist and their degree of satisfaction with the final product.
---
Hopefully, these guidelines will help in the process of selecting the cosmetic dentist who is right for you
Although oral cancer may not get as much attention as some more widely-known types of cancer, that doesn't mean it's any less deadly. In fact, it is estimated that in the United States, oral cancer is responsible for killing one person every hour, every day. While it accounts for a relatively small percentage of all cancers, oral cancer is dangerous because it isn't usually detected until it has reached an advanced stage. At that point, the odds aren't great: only about 6 in 10 people will survive after five years of treatment.
If there was a simple test that could give you an early warning about whether you're likely to have this disease, would you take it? The good news is — there is! Since early detection has been shown to increase the survival rate of oral cancer to 80% or better, this test can truly save lives. And best of all, having an oral cancer screening is part of something you should be doing anyway: getting regular dental checkups.
An oral cancer examination is fast and painless. Its objective is to identify small changes in the lining tissues of the mouth, lips and tongue that may signify the early stages of this type of cancer. The screening is primarily a visual and tactile (touch) examination. If any abnormalities are noted, a small tissue sample can be retrieved for further testing in a laboratory.
Who's At Risk for Developing Oral Cancer?
The answer might surprise you. Oral cancer used to be thought of as an older person's disease, and it still mostly affects those over 40. But today, younger people form the fastest-growing segment among oral cancer patients. This is primarily due to the spread of the sexually-transmitted Human Papilloma Virus (HPV16).
Of course, the other major risk factors still apply: If you're middle aged or older, a moderate to heavy drinker or a long-time tobacco user, you have a greater chance of developing oral cancer. Chronic exposure to the sun, long known to cause skin cancer, is also associated with cancers of the lips. Genetic factors are thought to have a major impact on who gets the disease as well.
Detecting Oral Cancer
A thorough screening for oral cancer is part of your routine dental checkup — another reason why you should be examined regularly. The screening includes a visual assessment of your lips, tongue, and the inside of your mouth, including a check for red or white patches or unusual sores. You may be palpated (pressed with fingers) to detect the presence of lumps and swellings, and your tongue may be gently pulled aside for an even better view. A special light, dye, or other procedure may also be used to help check any suspect areas. If anything appears to be out of the ordinary, a biopsy can be easily performed.
If you notice abnormal sores or color changes in the tissue of your mouth, lips and tongue, they may be a symptom of oral cancer — most, however, are completely benign. But sores or other unusual changes that haven't gone away by themselves after 2-3 weeks should be examined. Remember, the only way to accurately diagnose oral cancer is through a laboratory report. Early diagnosis, aided by thorough screenings at your regular dental checkups, is one of the best defenses against oral cancer.
Related Articles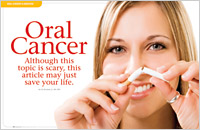 Oral Cancer This article may just save your life. Learn how to notice any unusual lesions (sores or ulcers) anywhere in your mouth that do not heal within two-three weeks. Early detection is key... Read Article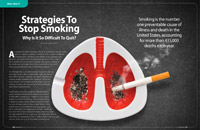 Strategies To Stop Smoking Cigarette smoking is the number one preventable cause of illness and death. Quitting smoking could prevent a large number of diseases and deaths each year. Many smokers find it difficult to stop, a fact that is confirmed by the staggering rate of relapse. Given the fact that cigarette smoking is a learned behavior that is reinforced over time, it makes sense that to be successful in quitting, you must "unlearn" this behavior. Here are some suggested ways to learn how... Read Article