It seems today that every dentist is a cosmetic dentist. This represents a fairly recent phenomenon. Since cosmetic dentistry is not a specialty recognized by the American Dental Association, how does one determine who's good, and who's not?
Below are four criteria that I would recommend using in your selection of a cosmetic dentist:
---
EDUCATION: There are many continuing education courses offered in cosmetic dentistry, and most of them are quite good. A cosmetic dentist must be dedicated to expanding his learning and increasing his knowledge through regular participation in these courses. This is a critical component of a cosmetic dentist's development of his or her own philosophy and technical expertise.


EXPERIENCE: While education is extremely important, it is of little relevance if not used in practice. The more cases a cosmetic dentist completes, the more capable that professional becomes in visualizing results, anticipating challenges, and knowing which techniques will produce the optimum result for the client. Cosmetic dentistry is extremely technical, and a clinician's skill set develops over time.


LAB SUPPORT: Most cosmetic dental cases involve the fabrication of a porcelain crown and/ or veneer. These items are made in a dental laboratory by specially trained personnel. This dental laboratory technician, or ceramist, is responsible for translating the cosmetic dentist's specific information on your case into a well-crafted and natural-looking product. In this sense, the ceramist is a true artist. In order to achieve a high level of proficiency, this individual must have benefited from the experiences of completing many cases. Ideally, the cosmetic dentist should have the same highly skilled ceramist complete all of his or her cases. This scenario would result in consistently beautiful results. In order to achieve this, the cosmetic dentist must have an established relationship with a high-quality dental laboratory.


REFERENCES: A cosmetic dentist should be able to provide a list of clients on whom he or she has completed cosmetic procedures. This is the best way for a potential client to gauge the patient's experience with their cosmetic dentist and their degree of satisfaction with the final product.
---
Hopefully, these guidelines will help in the process of selecting the cosmetic dentist who is right for you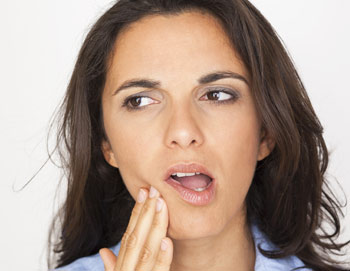 At one time or another, almost everyone has probably experienced some degree of tooth pain, from minor aches and sensitivity to acute distress. In general, the sensation of pain is a protective response that tells the body something is wrong. But when it affects your teeth, the exact source of the pain can be difficult to pinpoint; it may also come and go in response to other stimuli, like eating hot foods. So what is tooth pain signaling, and what should you do about it?
The most common cause of dental pain is tooth decay, a bacterial infection that can spread through many parts of the tooth, and even into the gum tissue. Traumatic damage and gum disease can also result in tooth pain.
The only sure way to know what's causing tooth pain is to see a dentist, who will ask detailed questions about what you're feeling and perform diagnostic tests, such as x-rays, to try and identify the exact source of the pain. However, there are some general ways to describe the sensations you may be experiencing — and their potential cause.
Severe Pain/Root Canal Emergencies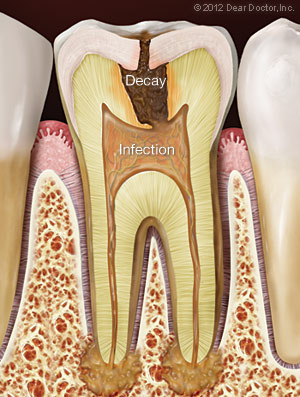 Constant, severe pain and pressure, swelling of the gums, and sensitivity to touch indicate an infection in the tooth, possibly accompanied by an abscess (inflamed, pus-filled sac) in the surrounding gum and bone tissue. In this case, it's important to see a dentist or endodontist right away — not only to relieve the pain, but also to save the tooth while it's still possible. Treatment may include a root canal to remove diseased or dying pulp tissue, and/or periodontal procedures to drain the abscess and stop the infection.
Lingering pain after eating hot or cold foods usually indicates disease in the pulp tissue deep inside the tooth. Deep decay or physical trauma to the tooth may have allowed bacteria to infect the pulp tissue or compromise the pulp vitality. As nerves inside the pulp tissue die, the pain may go away, but the infection won't — in fact, it can spread and cause significant damage. Make an appointment to see a dental professional as soon as possible; a root canal may be needed to ease the pain and preserve the tooth.
Sharp pain when biting down on food can be caused by severe tooth decay, a loose filling, a crack in the tooth, or possibly by damaged pulp tissue inside the tooth. It should be evaluated by a dentist as soon as possible. Depending on the cause, treatment may involve filling, bonding, root canal therapy, or other procedures.
Toothache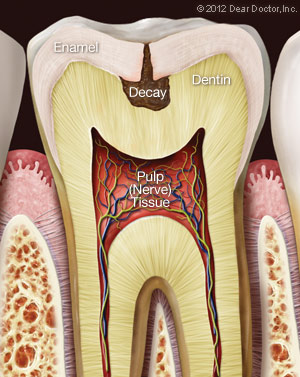 Occasional or momentary sensitivity to hot or cold foods may be caused by a tiny area of decay, a loose filling, or a small amount of gum recession that has exposed the roots of the teeth. To alleviate the symptoms, you can try using a soft brush and toothpaste formulated for sensitive teeth, for a couple of weeks. If that doesn't help, call the dental office to schedule and appointment. Dental treatment itself sometimes causes temporary sensitivity, which can often be relieved by the same methods. If pain persists or grows worse, however, be sure to seek treatment.
A severe sinus headache or congestion from colds or flu may cause you to experience symptoms such as a dull ache or pressure in the upper teeth and jaw. When the illness goes away, the dental distress should cease too. Tooth clenching or grinding (bruxism) has also been known to cause this type of discomfort. If you have these habits, you may want to have a nightguard made at the dental office to protect your teeth and jaws from too much force.
No matter what type of tooth pain or discomfort you are experiencing, it is important to seek treatment if it persists.
Related Articles