It seems today that every dentist is a cosmetic dentist. This represents a fairly recent phenomenon. Since cosmetic dentistry is not a specialty recognized by the American Dental Association, how does one determine who's good, and who's not?
Below are four criteria that I would recommend using in your selection of a cosmetic dentist:
---
EDUCATION: There are many continuing education courses offered in cosmetic dentistry, and most of them are quite good. A cosmetic dentist must be dedicated to expanding his learning and increasing his knowledge through regular participation in these courses. This is a critical component of a cosmetic dentist's development of his or her own philosophy and technical expertise.


EXPERIENCE: While education is extremely important, it is of little relevance if not used in practice. The more cases a cosmetic dentist completes, the more capable that professional becomes in visualizing results, anticipating challenges, and knowing which techniques will produce the optimum result for the client. Cosmetic dentistry is extremely technical, and a clinician's skill set develops over time.


LAB SUPPORT: Most cosmetic dental cases involve the fabrication of a porcelain crown and/ or veneer. These items are made in a dental laboratory by specially trained personnel. This dental laboratory technician, or ceramist, is responsible for translating the cosmetic dentist's specific information on your case into a well-crafted and natural-looking product. In this sense, the ceramist is a true artist. In order to achieve a high level of proficiency, this individual must have benefited from the experiences of completing many cases. Ideally, the cosmetic dentist should have the same highly skilled ceramist complete all of his or her cases. This scenario would result in consistently beautiful results. In order to achieve this, the cosmetic dentist must have an established relationship with a high-quality dental laboratory.


REFERENCES: A cosmetic dentist should be able to provide a list of clients on whom he or she has completed cosmetic procedures. This is the best way for a potential client to gauge the patient's experience with their cosmetic dentist and their degree of satisfaction with the final product.
---
Hopefully, these guidelines will help in the process of selecting the cosmetic dentist who is right for you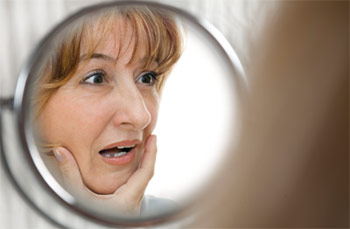 If you are missing one or more of your adult teeth, you're not alone — an estimated 178 million Americans have the same condition. Many try to get along without all of their teeth, and suffer from some of the familiar problems that go with the territory: smiles that don't look as appealing as they once did, problems eating certain foods, and awkwardness or embarrassment in social situations.
Yet there are other problems associated with tooth loss that are less obvious, but could have more of an impact on your health. These include nutritional difficulties, oral health issues, and bone loss.
Nutritional Difficulties
It is well established that eating plenty of fruits and vegetables and avoiding highly processed foods are essential parts of good nutrition. But many foods become difficult to chew if you have missing teeth — and those "challenging" foods are often the same ones that offer the greatest nutritional value. Softer foods are easier to eat, but they are often highly processed, and offer little nutritional value. Along with the possibility of malnourishment, a poor diet can lead to a compromised immune system and a decline in overall health.
Oral Health Issues
If you have only one or two missing teeth, you may not feel an urgent need to replace them now. Yet the problems that stem from missing teeth don't get better — and in time, they can get much worse. Teeth aren't fixed solidly in the jaw; instead, when even one tooth is missing, the remaining teeth tend to "drift" into new positions. This can cause a cascade of oral health problems, including unstable tooth positions, excessive tooth wear, bite problems, a greater chance of developing tooth decay and periodontal disease — and the loss of even more teeth.
Bone Loss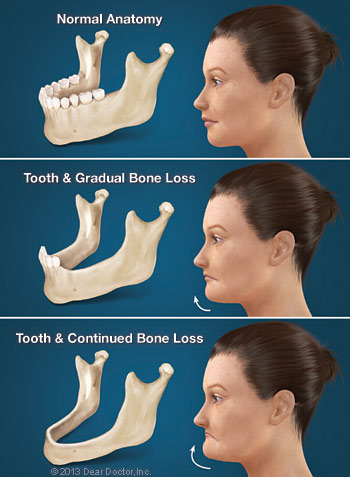 You can't see the bone inside your jaw — but the consequences of bone loss are very real. Bone tissue needs stimulation to maintain its volume and density. When teeth are lost, the jaw bone that once supported them loses stimulation and begins to deteriorate. It can lose one-quarter of its width in just one year, and even more as time passes. As the jaw becomes smaller, facial height (the distance from nose to chin) decreases, and facial features lose support. The chin rotates forward, the corners of the mouth turn downward (as if frowning), and the cheeks can appear hollow. Loss of bone in the jaw can give you the appearance of being many years older than you actually are.
The consequences of tooth loss are very real, even if they are less visible than a gap in your smile. That's why it is so important not to put off the replacement of missing teeth.
Related Articles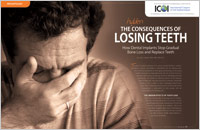 The Hidden Consequences of Losing Teeth For those missing even one tooth, an unsightly gap is actually the least significant problem. What's of far greater concern is the bone loss that inevitably follows tooth loss. Dental implants can preserve bone, improve function and enhance psychological well-being. Learn how implants serve both as anchors to support replacement teeth and preserve bone... Read Article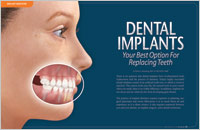 Dental Implants – Your Best Option For Replacing Teeth Dental implants have many advantages over older methods of tooth replacement like bridges and dentures — from the way they function and feel to the way they look and last. Vigorous research has documented and confirmed that in the right situations, dental implant success rates are over 95%. It is no exaggeration to say that they have revolutionized dentistry. They may even change your life... Read Article