It seems today that every dentist is a cosmetic dentist. This represents a fairly recent phenomenon. Since cosmetic dentistry is not a specialty recognized by the American Dental Association, how does one determine who's good, and who's not?
Below are four criteria that I would recommend using in your selection of a cosmetic dentist:
---
EDUCATION: There are many continuing education courses offered in cosmetic dentistry, and most of them are quite good. A cosmetic dentist must be dedicated to expanding his learning and increasing his knowledge through regular participation in these courses. This is a critical component of a cosmetic dentist's development of his or her own philosophy and technical expertise.


EXPERIENCE: While education is extremely important, it is of little relevance if not used in practice. The more cases a cosmetic dentist completes, the more capable that professional becomes in visualizing results, anticipating challenges, and knowing which techniques will produce the optimum result for the client. Cosmetic dentistry is extremely technical, and a clinician's skill set develops over time.


LAB SUPPORT: Most cosmetic dental cases involve the fabrication of a porcelain crown and/ or veneer. These items are made in a dental laboratory by specially trained personnel. This dental laboratory technician, or ceramist, is responsible for translating the cosmetic dentist's specific information on your case into a well-crafted and natural-looking product. In this sense, the ceramist is a true artist. In order to achieve a high level of proficiency, this individual must have benefited from the experiences of completing many cases. Ideally, the cosmetic dentist should have the same highly skilled ceramist complete all of his or her cases. This scenario would result in consistently beautiful results. In order to achieve this, the cosmetic dentist must have an established relationship with a high-quality dental laboratory.


REFERENCES: A cosmetic dentist should be able to provide a list of clients on whom he or she has completed cosmetic procedures. This is the best way for a potential client to gauge the patient's experience with their cosmetic dentist and their degree of satisfaction with the final product.
---
Hopefully, these guidelines will help in the process of selecting the cosmetic dentist who is right for you
Cavities are little holes in teeth that can eventually cause big problems. They form when tooth-eroding acid attacks a tooth's protective outer covering (enamel). This acid mainly comes from two sources: your diet, and certain oral bacteria that thrive in the absence of effective oral hygiene. If cavities are not treated promptly, decay-causing bacteria can get further into the tooth, leading eventually to root-canal problems and even tooth loss. The good news is that cavities are completely preventable — meaning it is truly possible to keep all of your natural teeth for life! Here are our top three tips to keep decay away:
Brush & Floss Every Day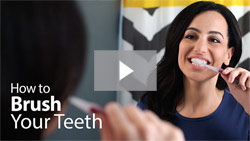 Cavity prevention starts with a good oral hygiene routine. This will remove dental plaque — a sticky film that harbors food particles and harmful bacteria. Flossing is particularly important because a toothbrush can't reach in between the teeth the way floss can. Make sure to floss both sides of every tooth, including the back molars, at least once each day. Brush your teeth at least twice each day, using a toothpaste that contains fluoride — a mineral that can become part of your tooth enamel and actually repair tiny cavities that are starting to form.
Pay Attention to Your Diet
Certain foods and beverages are no friends to your teeth, and soda tops the list. Soda, sports drinks, and so-called "energy drinks" are all acidic — even the sugar-free varieties. The acids they contain attack tooth enamel and make your teeth more prone to decay. Fruit juices can also be very acidic. Drinking water is much better for your dental health, not only because it has a completely neutral pH (is non-acidic), but also because it helps replenish your saliva — which has natural cavity-fighting properties. Sugary and starchy foods (cookies, candy, donuts, and chips) are also a problem — especially when they are not promptly cleaned from your mouth. They nourish the oral bacteria that cause cavities and raise the acidity level in your mouth.
See Your Dentist Regularly
Routine professional cleanings and exams are a great way to maintain excellent oral health. Your dental hygienist can clean areas of your mouth that you can't reach with your toothbrush or even with floss. We can check for early signs of tooth decay and take prompt action. What's more, we can recommend specific preventive treatments if you are particularly prone to cavities. These include in-office fluoride treatments and dental sealants, both of which are quick, easy and effective procedures. Special mouthrinses might also be recommended. Working together, we can make sure your oral hygiene routine is all it should be and that decay is kept at bay.
Related Articles