It seems today that every dentist is a cosmetic dentist. This represents a fairly recent phenomenon. Since cosmetic dentistry is not a specialty recognized by the American Dental Association, how does one determine who's good, and who's not?
Below are four criteria that I would recommend using in your selection of a cosmetic dentist:
---
EDUCATION: There are many continuing education courses offered in cosmetic dentistry, and most of them are quite good. A cosmetic dentist must be dedicated to expanding his learning and increasing his knowledge through regular participation in these courses. This is a critical component of a cosmetic dentist's development of his or her own philosophy and technical expertise.


EXPERIENCE: While education is extremely important, it is of little relevance if not used in practice. The more cases a cosmetic dentist completes, the more capable that professional becomes in visualizing results, anticipating challenges, and knowing which techniques will produce the optimum result for the client. Cosmetic dentistry is extremely technical, and a clinician's skill set develops over time.


LAB SUPPORT: Most cosmetic dental cases involve the fabrication of a porcelain crown and/ or veneer. These items are made in a dental laboratory by specially trained personnel. This dental laboratory technician, or ceramist, is responsible for translating the cosmetic dentist's specific information on your case into a well-crafted and natural-looking product. In this sense, the ceramist is a true artist. In order to achieve a high level of proficiency, this individual must have benefited from the experiences of completing many cases. Ideally, the cosmetic dentist should have the same highly skilled ceramist complete all of his or her cases. This scenario would result in consistently beautiful results. In order to achieve this, the cosmetic dentist must have an established relationship with a high-quality dental laboratory.


REFERENCES: A cosmetic dentist should be able to provide a list of clients on whom he or she has completed cosmetic procedures. This is the best way for a potential client to gauge the patient's experience with their cosmetic dentist and their degree of satisfaction with the final product.
---
Hopefully, these guidelines will help in the process of selecting the cosmetic dentist who is right for you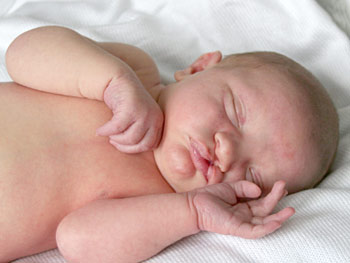 Cleft lip and cleft palate are among the most common birth defects, estimated to affect around one in 700-800 babies born in North America. Both problems result from the incomplete formation of anatomical structures (the lips and the palate, or "roof of the mouth") which develop during early pregnancy. These conditions may occur separately or together, and they can have a wide variation in severity. With proper treatment, however, in most cases the child has an excellent chance of leading a healthy, normal life.
Besides the noticeable irregularity in appearance, a cleft lip or palate can cause difficulties with feeding and speech. Both conditions are also associated with ear infections, hearing loss and dental problems. To fully address these problems, a child may require several surgical procedures, performed at different times. That's why a team approach is often used to treat this complex condition. Members of the medical team may include an oral surgeon, a pediatric dentist, an orthodontist, a plastic surgeon, and other specialists.
In general, the first goal of treatment is to repair or "close" the gap in the lip and/or palate as soon as it is practical for the child — as early as 2 to 9 months of age. Follow-up treatment may be needed to restore the appropriate form and function of the lips, teeth, and jaws (for proper speech, eating, etc) and to correct hearing problems. These procedures may include plastic surgery, orthodontics, orthognathic (jaw) surgery and speech therapy.
Surgical Treatment for Cleft Lip or Palate
Cleft lip or palate surgery is usually performed in a hospital setting, and may be done when an infant is 6 to 12 weeks old. Intravenous sedation or general anesthesia is used, so your child won't experience any pain. In cleft lip surgery, an incision is typically made on each side of the cleft. This creates several "flaps" of tissue, which are then sutured (stitched) together to close the gap. Suture lines are generally planned to follow the facial contours, so that the surgical scar will be as unobtrusive as possible.
Cleft palate treatment involves rebuilding the roof of the mouth, including soft tissue, muscle and bone. The initial surgery is often performed between the ages of 6 and 18 months. Like cleft lip surgery, it relies on specialized "flap" techniques to reposition soft tissues and close the gap. Before or after surgery, your child may need to wear a special appliance such as an obdurator (artificial palate) or a nasal alveolar molding device (NAM), a type of retainer.
Follow-Up Treatment
Depending on how complex the child's condition is, additional procedures may be required after the initial treatment to fully correct any defects. A child's treatment plan will often include pediatric dental examinations beginning around age one. Bone grafts to repair the hard palate may be recommended at age 8-11 years, when the cuspid teeth are developing. To correct problems with the alignment of teeth, orthodontic care may be needed beginning around age 12. In some situations, orthognathic surgery is recommended to address more severe jaw problems.
Handling a child's cleft lip or palate can be a challenge for caregivers and family members — but it's important to keep in mind that this relatively common birth defect can be successfully treated. Many who have this condition have gone on to become well-known performers, politicians, sports stars… as well as moms and dads, friends and neighbors.
Related Articles