It seems today that every dentist is a cosmetic dentist. This represents a fairly recent phenomenon. Since cosmetic dentistry is not a specialty recognized by the American Dental Association, how does one determine who's good, and who's not?
Below are four criteria that I would recommend using in your selection of a cosmetic dentist:
---
EDUCATION: There are many continuing education courses offered in cosmetic dentistry, and most of them are quite good. A cosmetic dentist must be dedicated to expanding his learning and increasing his knowledge through regular participation in these courses. This is a critical component of a cosmetic dentist's development of his or her own philosophy and technical expertise.


EXPERIENCE: While education is extremely important, it is of little relevance if not used in practice. The more cases a cosmetic dentist completes, the more capable that professional becomes in visualizing results, anticipating challenges, and knowing which techniques will produce the optimum result for the client. Cosmetic dentistry is extremely technical, and a clinician's skill set develops over time.


LAB SUPPORT: Most cosmetic dental cases involve the fabrication of a porcelain crown and/ or veneer. These items are made in a dental laboratory by specially trained personnel. This dental laboratory technician, or ceramist, is responsible for translating the cosmetic dentist's specific information on your case into a well-crafted and natural-looking product. In this sense, the ceramist is a true artist. In order to achieve a high level of proficiency, this individual must have benefited from the experiences of completing many cases. Ideally, the cosmetic dentist should have the same highly skilled ceramist complete all of his or her cases. This scenario would result in consistently beautiful results. In order to achieve this, the cosmetic dentist must have an established relationship with a high-quality dental laboratory.


REFERENCES: A cosmetic dentist should be able to provide a list of clients on whom he or she has completed cosmetic procedures. This is the best way for a potential client to gauge the patient's experience with their cosmetic dentist and their degree of satisfaction with the final product.
---
Hopefully, these guidelines will help in the process of selecting the cosmetic dentist who is right for you
In many cases, problems with the bite or the alignment of the teeth can be corrected using today's advanced methods of dental and orthodontic treatment. Sometimes, however, skeletal and dental irregularities aren't so easy to remedy, even with the most up-to-date non-surgical techniques. That's when corrective jaw surgery (also called orthognathic surgery) may be recommended.
While it may sound like a complex and demanding treatment, jaw surgery isn't always so serious. It's often performed as a routine in-office procedure — for example, to extract impacted wisdom teeth (molars that don't fully protrude through the gums), or to place dental implants in the jaw. However, it can also be used to remedy severe orthodontic problems involving the relationship between the teeth and jaws, including the correction of underbites (the most frequent surgical correction) and congenital abnormalities (birth defects) related to jaw development. It can even help alleviate sleep apnea, a potentially life-threatening condition.
Who Can Benefit From Jaw (Orthognathic) Surgery
People who have problems related to the jaws, tooth alignment and facial asymmetries, which create difficulties chewing, talking, sleeping, or carrying on routine activities, may benefit from having orthognathic (jaw) surgery. These procedures can also be used to correct aesthetic issues, such as a protruding jaw, a congenital defect, or an unbalanced facial appearance.
After a thorough examination, it can be determined if you're a candidate for orthognathic surgery. In general, if orthodontic treatment can solve the problem, that's where you will start. Yet, while orthodontics can successfully align the teeth, it's sometimes the jaws themselves that need to be brought into line. In most cases, orthodontic appliances, such as braces and retainers, will be used before and after the surgical phase of treatment, to ensure that you end up with an effective — and aesthetically pleasing — result.
Conditions that can be successfully treated with corrective orthognathic surgery include the following:
Open bite, protruding jaw or receding chin
Congenital defects such as a cleft palate
Malocclusions (bite problems) resulting from underbites or severe overbites
Obstructive Sleep Apnea, when more conservative methods fail
Difficulty swallowing, chewing, or biting food
Chronic jaw or jaw joint (TMJ) pain and headache
Unbalanced facial appearance from the front or side
Inability to make the lips meet without straining
Chronic mouth breathing and dry mouth
Facial trauma
The Surgical Procedure
While every patient's needs are different, it's possible to outline some typical steps in the process. The first (and perhaps most important) component is consultation and planning among members of the dental team, including the restorative or general dentist, the orthodontist, and the oral surgeon. Your overall plan may involve orthodontic treatments along with surgical procedures. Using diagnostic images, 3-D models and advanced software, a step-by-step plan will be developed for the entire process. It's even possible in many cases to show you a picture of what you'll look like when your treatment is finished.
The surgery itself may occur in a hospital or an office setting, with the type of anesthesia that's most appropriate for the procedure, and for your comfort. Because the actual surgery is generally performed inside the mouth, it often leaves no visible traces. After the procedure, minor pain and swelling can be controlled by over-the-counter or prescription pain medication. A soft or liquid diet may be recommended for a period of time following the procedure.
Following surgery, your condition will be closely monitored — as will your progress through each phase of the treatment plan. When it's complete, you can enjoy the benefits of improved functionality and an enhanced appearance.
Related Articles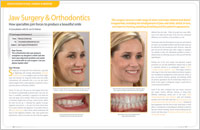 Jaw Surgery & Orthodontics When a person's upper and lower jaw don't meet correctly, braces alone are not going to be enough to align the smile in an aesthetically pleasing way. Jaw surgery combined with orthodontics, however, can produce amazing results... Read Article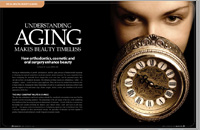 Understanding Aging Makes Beauty Timeless For years, researchers have been cataloguing the inevitable facial changes that occur over time. Understanding how the face and the underlying skeleton change — through adolescence into adulthood — has an enormous impact on how dentistry can create positive change. Discover how dentists use their knowledge of the aging process to make treatment decisions and the profound effect this can have on facial beauty during a lifetime... Read Article