It seems today that every dentist is a cosmetic dentist. This represents a fairly recent phenomenon. Since cosmetic dentistry is not a specialty recognized by the American Dental Association, how does one determine who's good, and who's not?
Below are four criteria that I would recommend using in your selection of a cosmetic dentist:
---
EDUCATION: There are many continuing education courses offered in cosmetic dentistry, and most of them are quite good. A cosmetic dentist must be dedicated to expanding his learning and increasing his knowledge through regular participation in these courses. This is a critical component of a cosmetic dentist's development of his or her own philosophy and technical expertise.


EXPERIENCE: While education is extremely important, it is of little relevance if not used in practice. The more cases a cosmetic dentist completes, the more capable that professional becomes in visualizing results, anticipating challenges, and knowing which techniques will produce the optimum result for the client. Cosmetic dentistry is extremely technical, and a clinician's skill set develops over time.


LAB SUPPORT: Most cosmetic dental cases involve the fabrication of a porcelain crown and/ or veneer. These items are made in a dental laboratory by specially trained personnel. This dental laboratory technician, or ceramist, is responsible for translating the cosmetic dentist's specific information on your case into a well-crafted and natural-looking product. In this sense, the ceramist is a true artist. In order to achieve a high level of proficiency, this individual must have benefited from the experiences of completing many cases. Ideally, the cosmetic dentist should have the same highly skilled ceramist complete all of his or her cases. This scenario would result in consistently beautiful results. In order to achieve this, the cosmetic dentist must have an established relationship with a high-quality dental laboratory.


REFERENCES: A cosmetic dentist should be able to provide a list of clients on whom he or she has completed cosmetic procedures. This is the best way for a potential client to gauge the patient's experience with their cosmetic dentist and their degree of satisfaction with the final product.
---
Hopefully, these guidelines will help in the process of selecting the cosmetic dentist who is right for you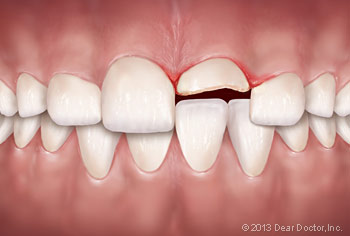 When you were a youngster, did you ever get a black eye, chip a tooth or bruise your cheek? If so, you may have experienced a case (let's hope, a mild one!) of facial trauma. In many situations, however, facial trauma can be severe. Among its major causes are auto accidents, sports injuries, work-related mishaps, falls, and acts of violence. When serious facial injury occurs, it's important that you receive immediate and comprehensive care. That's why oral and maxillofacial surgeons are on call at most emergency and trauma centers.
Facial trauma in general involves injuries to the soft- or hard-tissue structures of the face, mouth or jaws — including the teeth, the bones of the jaws and face, and the tissue of the skin and gums. It can also involve treatment of particular specialized regions, such as the area around the eyes, the salivary glands or facial nerves. Because facial injuries can affect not only a person's ability to carry on basic life functions (eating, vision, etc) but also his or her appearance, there is often a strong emotional component to treatment as well as a physical one. But after completing an extensive training program, oral and maxillofacial surgeons are capable of handling the full scope of facial injuries.
Treatments for Facial Injury
Some facial traumas are relatively minor. A common one occurs when a tooth is loosened or knocked out (avulsed). Many times, if treated immediately, the tooth can be successfully re-implanted in the jaw. If that isn't possible, placing a dental implant is often the most effective way to replace a missing tooth.
Another type of relatively common but more serious injury may involve a fracture of the facial bones, including the cheekbones, upper or lower jawbones, or the eye sockets. In principle, its treatment is essentially the same as that used for a broken arm: place the bones back in their proper position, and immobilize them. But since it isn't possible to put a cast on the face, different immobilization techniques are used. One method involves wiring the upper and lower jaws together to let them heal in the correct alignment; alternatively, plates and screws may be used to permanently reattach the bones.
Severe facial trauma is often a critical condition, since over 60% of these patients also have serious injuries in other parts of the body. In fact, many of the standard techniques used in trauma centers were developed by oral and maxillofacial surgeons during the wars in Korea, Vietnam, and the Middle East. Restoring breathing, controlling bleeding and checking for neurological damage are top priorities. After that, as much of the reconstructive surgery as possible is accomplished in one operation.
Preventing Facial Trauma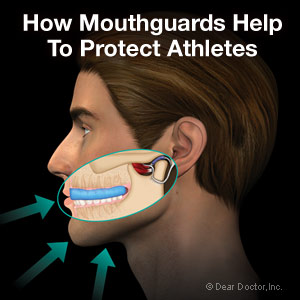 What's the best treatment for facial trauma? Prevention. Always wearing seat belts, using proper helmets and protective gear when playing sports, and staying out of dangerous situations (like driving while impaired, tired or distracted) can go a long way toward keeping you safe. If you're engaging in athletic activities that carry any risk of facial injury, wear a properly fitted mouthguard — this small piece of protective equipment can save you a lot of potential harm.
But if you (or someone you care for) require a trip to the emergency room for a facial injury, be sure to ask for a consultation with an oral and maxillofacial surgeon, so that you get the best care and the most favorable outcome.
Related Articles